Solrisa Owners and Neighbors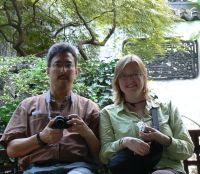 In 2001, Bill and Carmen gathered their families together for a vacation to Carmen's birth country, Costa Rica. Bill immediately fell in love with the land, its friendly people and the brilliant tropical sunsets. Bill and Carmen's next few visits to Costa Rica found them hiking around with real estate agents looking for his perfect piece of a tropical haven. When Bill finally found what he was looking for ~ a beautiful hillside, overlooking the sea with glowing sunsets 365 days of the year. There was one problem. He couldn't afford to buy it.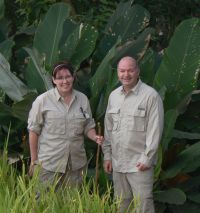 Undaunted, he returned home to grey skies in Seattle, Washington and resumed his job as an electrical design engineer. When his ex-boss, Larry, strolled into his cubicle one day asking him how his property search went, Bill showed him pictures. Larry must have fallen just as hard as Bill. He talked to his wife, Bunny. A few days later, sight unseen, except for the pictures that Bill brought back, Larry and Bunny Eccelston agreed to join Bill and Carmen in the ambitious dream that became Solrisa resort and properties in Escaleras, Costa Rica.

"We are determined, resourceful conservators of the land who are working hard at making Solrisa a unique and welcoming place for guests, friends and soon-to-be neighbors."
Bill and Carmen Britz

© 2009 Carmen Britz. All contents copyrighted. All rights reserved.