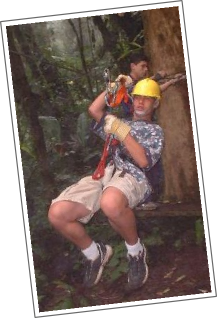 Things to Do In and Around Dominical & Uvita
Are you a surfer or a sunbather? A birdwatcher or a sport fisherman? A snorkler, diver or kayaker? Whatever your interests are, south central Costa Rica has an adventure calling to you.
One of our favorite pastimes is just to hop in a 4-wheel drive vehicle and explore. Our area has some awesome activities. You never know what you'll discover in Costa Rica. You'll make memories for a lifetime.
Local Beaches
With a little luck, you'll have one of our nearby beaches all to yourself. We're in relatively undiscovered Costa Rica. Playa de las Ventanas, Punta Uvita, Playa Hermosa and Playa Piñuela beckon with their warm tropical water all year long. Solrisa is two kilometers from the shore. You'll see and feel the wisdom of staying on a cool, breezy, hillside with terrific views.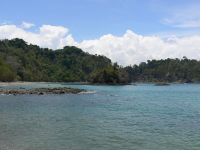 This park is the most visited park in Costa Rica for good reason. It's a nature reserve with more monkeys than people on some of the most beautiful white sand and torquoise water beaches that you'll ever see. It's about an hour's drive north of Solrisa at the town of Quepos. Stay with us and you'll avoid the crowds there. The park is closed on Mondays.
Have you ever wanted to zipline through the rainforest canopy? Hacienda Baru is located two kilometers north of Dominical. (7 kilometers from us) They offer canopy tours, hiking tours and nighttime tours.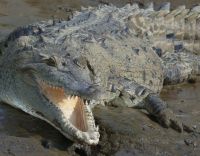 Sierpe Mangrove Forest Boat Tour
Sierpe is a sleepy little town about an hour and a half south through the coastal plains, mysterious stone spheres and palm oil plantations. From here you can hire a boat that will take you on a lazy float through the mangroves where you'll see wild birds, crocs, boa constrictors and an abundance of wetland creatures. These tours are a green season treat. During the very hot and dry days of late dry season, the animals are conserving their energy and hiding in the shade to keep out of the heat. A word of advice - bargin on the price of your boat ride. We never accept the first offer we get and they always seem to lower the price.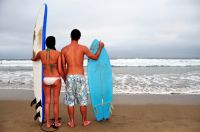 Surf's Up!
Dominical is a year-round surfing destination. Dominical beach being a mile long with strong left and right beach breaks.
Several surfing schools in Dominical can help you get from clucked to stoked about surfing. The Green Iguana Surf Camp gives its beginner classes just down the hill from Solrisa at Dominicalito, our nearest beach.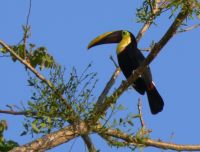 Bird Watching
There are birds everywhere you look in Costa Rica, but even we are surprised by the endorsements of the birdwatchers who've stayed at the cabins. One guest photographed over 70 species within 100 metres of the house, more than 50% of them from our porch overlooking the ocean. Dominical and the surrounding area are a birder's heaven and a nature lover's dream. The preserved green belts and hiking trails at Solrisa mean that you can explore the greater area, but you don't have to go far to see fascinating wildlife.
Check out Costa Rican Birds (and some insects) at this photographer's website. We enjoy all of Sherwood's photography, but we're especially proud that some of these photos were taken at Solrisa. He shows you the bird watching scene around Dominical better than we ever can. Enjoy his artistry.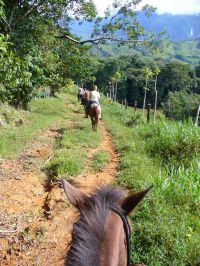 Horseback Riding
Horseback tours in the area go to Nauyaca waterfalls, a semi-remote destination that is truly something out of The Lost World - steamlike mist rises from a huge cascade of water in the jungle. Even non-equestrians will enjoy the pastoral countryside and a fresh swim under the falls.
Mountain Town
A forty-five minute drive will take you to the bustling mountain city of San Esidro de General where larger a selection of shopping, banking and hospital facilities are available. The Wednesday and Thursday farmer's market is the place to people watch and stock up on avocados, tomatoes or pineapples.
Where the Whales Are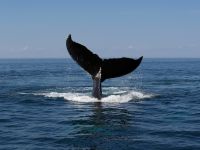 Marino Ballena National Park near Uvita is named after the Humpback Whales that migrate here to mate from December to April. It must not be a coincidence that the beach has sand spit to an island in the shape of a whale's tail. From here you might see whales breach as they congregate before heading north. The beach offers calm, relaxing swimming and snorkeling. Between May and November sea turtles come a shore. Whale watching and fishing tours are popular from Uvita as well as diving and snorkeling tours to nearby Isla Caño.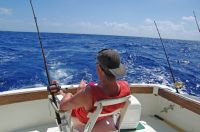 Sportfishing
Onshore or offshore fishing, south pacific Costa Rica offers the catch of the day. Sailfish, red snapper and roosterfish are some of the local favorites. In these unspoiled waters, local fisherman will still take you out for the day, or you can go upscale with a Cuna del Angel sportfishing package.
ATVs, Kayaks and More
There are several equipment rental and tour companies in Dominical and Uvita. Can't bring your surf board? Rent one. You can also rent ATVs in Dominical. They will take you on dirt roads from jungle waterfalls to bright sandy beaches. You can explore coastal caves on kayaks at Marino Ballena National Park near Uvita or explore the river estuaries of Dominical. Flora and fauna are everywhere. Paddle quitely and enjoy nature's wonder.
Hiking and Walking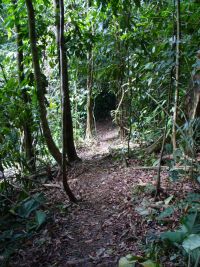 Solrisa is located in the Escaleras hills near Dominical. It's elevation offers two advantages to hikers and walkers. 1) The hiking views are awesome. 2) You're more likely to catch cool breezes here than at sea level.
Solrisa's trails to the waterfalls will give you a taste of the true Costa Rican jungle. The seldom used roads in the area double as hiking trails. They are safe and you can still see interesting wildlife and exotic tropical plants. The Dominical area is still relatively undeveloped compared to its neighbors to the north, another avantage for hikers and people seeking a more peaceful vacations.
Dining
Eating out is truly a pleasure in Dominical, Uvita and Ojachal. Unexpectedly, some of the best meals can often be found under a thatched hut off the beaten path in the jungle. We live in such a diverse community that in addition to the local cuisine, you can find anything from fine French food to pizza baked in a clay oven, Thai and Tex-Mex. Would you believe there's even an Irish Pub on the highway?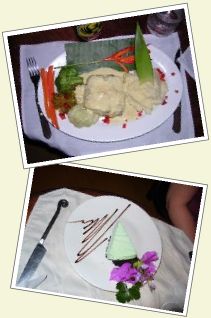 Dominical's Hidden Jewels
The quirky, eclectic beachfront town of Dominical, Costa Rica, with its casual, easy-going atmosphere, tasty restaurants and world-renowned surfing is nine minutes away from Solrisa. This is the unspoiled little beach town that you've been dreaming of.
There is a hidden community in the jungle hills around Dominical. Let us help you discover the local secrets that most tourists never find.
♦ Movies in the Jungle
♦ Succulent hot wings & burgers
♦ Five-star food for two-star prices
♦ Secret waterfalls
♦ Secluded beaches
♦ Mountain horseback tours
We're happy to share secrets!