Ocean View Properties for Sale
Ocean view property around the world is a limited resource that is becoming more difficult to find and purchase. We graciously believe that Solrisa has some of the most beautiful pieces of land still available in Costa Rica.
Selected lots will become available for sale in 2010. We wish to attract eco-conscious buyers who want to make their home here.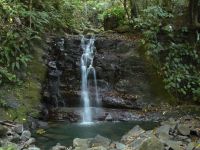 Our goal in creating the Solrisa community has been to minimize our impact on the environment while preserving the views and property value of every lot in the community. Over 75% of Solrisa is set aside as a nature reserve of only trails and waterfalls. This will insure that the monkeys, birds and wildlife will always have a home and a place to roam at Solrisa.
We bought our land in Costa Rica because the country is beautiful, the climate is warm, and the people are friendly. In Costa Rica, we live less complicated lives in a healthier environment. We'll be selling selected lots to potential neighbors who we hope will value the land and unique lifestyle of Costa Rica as much as we do.
If you have a pre-sale inquiry about the property, principals only please contact us.
© 2009 Carmen Britz. All contents copyrighted. All rights reserved.